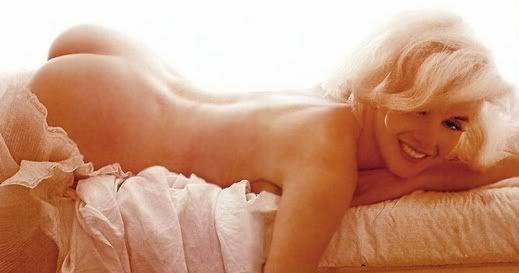 "Marilyn's need to be desired was so great that she could make love to a camera. Because of this, her lust aroused lust in audiences, sometimes even among women. There was nothing subtle about it. She was no tease. She was prepared, and even eager, to give what she offered." - William Manchester
Of all people, it was Jackie Kennedy Onassis who predicted, "She will go on eternally." Marilyn continues to rise up in the popular culture of the times, over and over, taking different forms.
Marilyn, in one version of the story, succumbed to an infant paparazzi utterly child-like compared to today's piranha-like variety. Each generation of "sex symbols" have had to adjust to the pursuit of the lens.
Madonna turned her attention back at the lens.
My favorite scene in her film
Truth Or Dare
is one in which she enters a room with Warren Beatty on her arm. Beatty sees the camera and recoils; Madonna sees the camera and devours it.
Basic Instinct
film (1992) I am in the small minority who think the real jewel is the sequel (2006). In novelist-slash-serial killer Catherine Tramell, Sharon Stone creates a female sexual predator who would cause Hannibal Lecter to cower under a desk in a puddle of his own urine. Spreading her legs before the male characters in the films (and the men in the audience), Tramell commands us to
look at it
, so she can look at us looking. Powerful professional men become 14 year-old boys caught hiding in the dirty book section of the neighborhood drugstore.
Twenty-one year old actress, Lindsey Lohan, has been through the magnifying glass-slash-meat grinder of celebrity fetish media as or more intensely than anyone in recent years. Multiple stays in rehab, arrests for drugs and alcohol, it is easy to understand why Lohan has a certain fascination with the imagery of Monroe. A recent issue of New York Magazine featured Lohan's collaboration with Monroe's photographer, Bert Stern, to recreate Marilyn's final photo shoot.
In the above photos Lohan prepares for her shoot. The first time I saw these images was a bit like seeing Christian Bale in the Bob Dylan anti-biopic
I'm Not There
,
it took me a little while to figure out that the distance between the subject (Bale/Lohan) and the object (Dylan/Monroe) was intentional and calculated. In these photos Lohan eschews the airbrushing and make-up that might have removed that tattoo or eliminated the freckles and, having made a study of the original photos, her expressions seem to explode with intent as well.
I find it easy to imagine that, if Lohan were a conceptual artist, these images might cover the walls at the Whitney in an exhibit on contemporary American celebrity culture. The idea, which was hers, and the execution are brilliant.