"In its simplest definition, inlay is the decorative process of gluing shell, metal, stone, tusk, and other materials into a cavity hollowed from a surface. It is an ancient practice; the earliest known inlaid object is from Mesopotamia, around 3000 B.C. In recent centuries, artists have applied inlay to musical instruments, adding visual aesthetics that match or augment their musical capacities. The result is the creation of extremely rare and original instruments that transcend their function and become art themselves."
Until recently everyone agreed that the pinnacle for acoustic instruments and decorative inlay, carving and engraving had been the period of 1920-1940. This was the time of the most elaborate guitar and banjo craftsmanship. But recently there has been a renaissance in acoustic instrument making and in the decorative arts that has surpassed that earlier period. We are living at a time when the work that is being done is better than ever. It makes me sad that I won't be around to play some of these instruments in fifty years and hear how they've matured with age.
I've always loved pearl inlay on guitars. The first time I toured the Martin Guitar factory in the mid 1970s and learned that the difference between a model D-28 and D-45 - both rosewood dreadnaught guitars - was in the number of "man hours" involved in adding the pearl around the edges of the body and on the fingerboard and head stock. I also learned that the inlay artists at Martin at that time responsible for those man hours were two women.
Today there is some basic agreement that the best decorative and inlay work is bring done by a small number of artists whose instruments are as prized as any but the rarest vintage guitars and banjos.
When she was inducted into the Four String Banjo Hall Of Fame in 2005, her official bio read:
"By virtually every benchmark, banjos manufactured during the 1920s by major manufacturers such as Vega, Bacon & Day, Paramount, Gibson and Epiphone are believed to have reached a level of design and craftsmanship which is seldom equaled and rarely exceeded in today's musical marketplace. However, on occasion, a contemporary banjo maker emerges who embodies both the vision and skills necessary to rival the priceless instruments of the past in both form and function. Renée Karnes is such an artist.
In 1997 she built a banjo named "the Maritime" that was the most inlayed banjo Renée had done to date, spending approximately 525 hours on the inlay work. A photo of it can be seen
here
.
A short video of Renée's work (and it is jaw-dropping) can be seen
here
. Below are a few images of her work: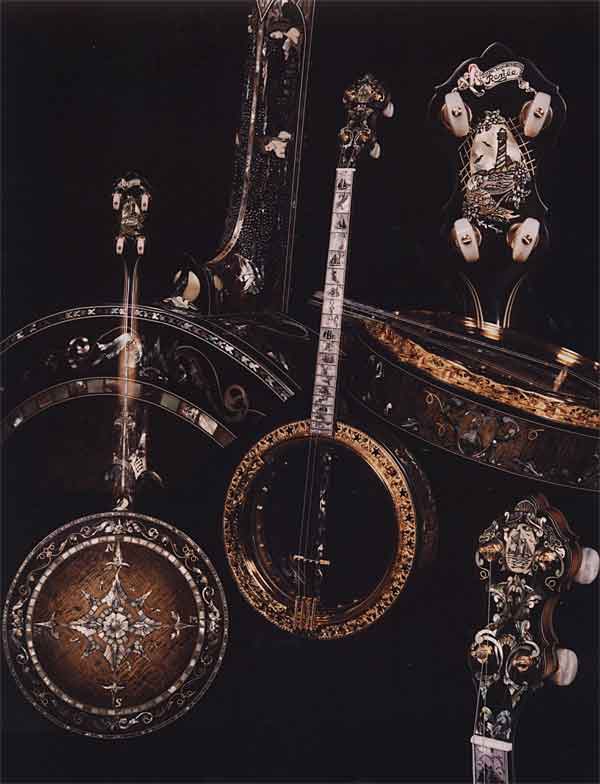 Larry Robinson began using his father's hand tools at the age of six and was making furniture with power tools by the age of eleven. Even this doesn't explain the incredible artistry he's produced in his career as an inlay artist. The image at the top of this post is Robinson working on the back inlays of the Martin #1,000,000 guitar. Details are
here
.
Intricate guitar fingerboards have always appealed to me. Looking at the set below, representative of Robinson's work, almost makes me weep. Click on the photo to enlarge it:
The Nouveau theme in thin ivory, kingwood hair, gold dust and silver framing in detail:
Inlaid on maple, this Chinese warrior is incredibly complex. It was used on the headstock by a Chinese guitar company:
Of all his projects, the Nouveau guitar (not related to the fingerboard above) created for no particular person in mind, may represent the absolute peak of Robinson's abilities. Click
here
for a set of photos and information; make sure you're sitting down.
Why I describe my inlay work as art: A traditional approach to instrument inlay, even when it is complex, typically serves only a decorative function...it can be beautiful and appealing, but it doesn't fully "engage" a viewer. To me, when a creative act becomes art, when one is fully engaged by it, that is when it communicates successfully. In order to communicate it must have something to say. I endeavor to use the medium as a vehicle to communicate something...to convey at minimum a mood or feeling, at best an actual story, which gives me the ultimate satisfaction. - William "Grit" Laskin
Laskin's abilities are unique. He is able to produce almost photorealistic inlays, and he is best known for what guitar makers call "breaking the nut" meaning that an inlay design that begins on the instrument's headstock continues past the headstock and down onto the fingerboard. If you click on
this
, you'll thank me.
"I think in the guitar world there is a new market that is developing where some of the work of the great modern day inlayers will be looked at as collectable art that just happens to have a guitar for canvas. I see where some of the crazy prices that paintings and sculptures command will be paid for guitars. I think people will see Inlaid musical instruments in the same light and use them as accent pieces in decorating. Musical instrument Inlay is still pure right now; there is good money in it but not crazy money. The people who are really setting the standard are doing it because they love it. If we ever get crazy money I'm not sure that will always be true." - Harvey Leach
This warrior inlay took 25 hours of work and is made up of a large number of individually cut pieces of mother of pearl and different colored hard woods. It is a good example of the detail Leach achieves in his inlays.
On Leach's "Jurassic Guitar" the theme was "age." The tuner buttons are 65,000,000 year old Baltic Amber, the inlays are 15,000,000 year old gold (deposits), The nut, saddle and scrimshaw background are 15,000 year old Mammoth Ivory, the truss rod cover is a 150 year old Chinese game piece and the back and sides are 50 year old Brazilian Rosewood.
Harvey Leach's most elaborate design work can be seen in detail at his
web site
.